Dredging in progress through pipeline on National Waterway-1
The detail of Least Available Depth (LAD), which was maintained for various stretches of NW-1 during 2017-18 is given below:
(a) Haldia – Farakka stretch            (560 km)       –     2.6 m to 3.0 m
(b) Farakka – Barh stretch              (400 km)        –     2.1 m to 2.5 m
(c) Barh – Ghazipur stretch             (290 km)       –       1.6 m to 2.0 m
(d) Ghazipur – Chunar/Allahabad    (370 km)     –      1.1 m to 1.5 m
4.2 Cargo Movements:
The transportation of Coal for NTPC Power Plant is being undertaken since November 2013 from sand heads (Bay of Bengal) to Farakka through National Waterway–1.  During FY 2017-18 about 1.60 lakh tons of imported Coal (upto July, 2017) has been transported successfully by M/s Jindal ITF Ltd.  using the barges of 1500 – 2000 tons capacity.
Moreover, about 30 lakh tons cargo comprising of fly ash, food grains & general cargo moved between India and Bangladesh through National Waterway - 1 and Indo-Bangladesh Protocol Route under Inland Water Transit & Trade.  
In addition, the trial movement of 240 tons of bagged cement from Kolaghat located on river Rupnarayan (NW-87) to Bhagalpur on river Ganga (NW-1) and 300 tons of bagged fly ash from Kahalgaon (NW-1) to Kolaghat  of M/s Dalmia Bharat Cements has been done by IWAI's shallow draft cargo vessel      MV VV Giri under consultancy services for plan and implementation support for commercialization of NW-1.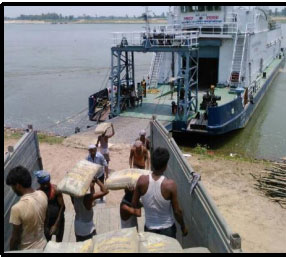 Coal movement to NTPC Farakka through NW-1         Loading of bagged fly ash at Bhagalpur on NW-1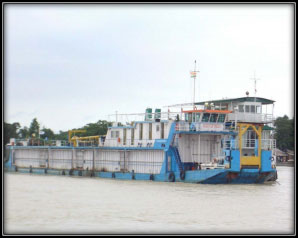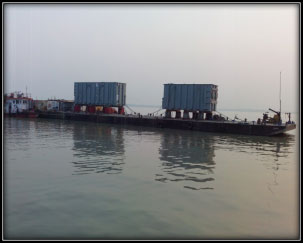 IWAI Cargo vessel S D V Rajagopalchari                                        ODC movement on National Waterway-1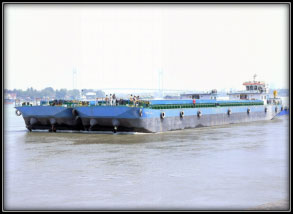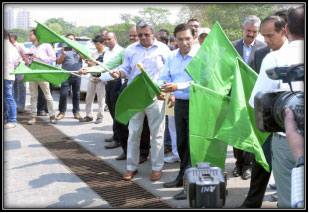 Flagging off IWAI's newly built TUG Ram Prasad Bismil & Trishul, DB Kalpana Chawla, APJ Abdul Kalam, Ajoy & Dikhu of 1000 t capacity and Cargo Vessels MV AAI & MV Beki of 2260 t capacity.
Besides, 2.87 lakhs tons cargo containing ODC (Steam turbine & Generator starter etc), Cement, Fly ash, Stone Chips & heavy machineries etc. transported on NW-1between Farakka-Allahabad during 2017-18. 
4.3 Development of Tourism:
Inland tourist vessels – RV Bengal Ganga, Ganga Voyager-I and Ganga Voyager-II of     M/s Heritage River Cruise Pvt. Ltd., ABN Rajmahal & ABN Sukapha of M/s Assam Bengal Navigation Co. Pvt. Ltd. are plying on NW-1 in the State of West Bengal, Jharkhand, Bihar and Uttar Pradesh since many years on an increasing trend. The movements of these tourist vessels with foreign tourists were continued during 2017-18 and completed their commercial trips successfully as per schedule.  One hundred seven (107) no. to & fro voyages between Kolkata to Hazardwari/ Farakka & six (06) no. to & fro voyages between Kolkata to Bateshwarsthan/ Munger/ Patna  has been performed by these tourist vessels.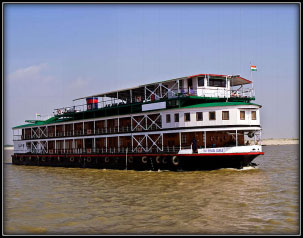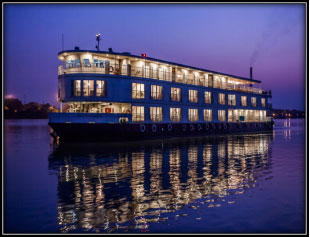 Tourist Vessel RV Bengal Ganga on NW-1                      Tourist Vessel Ganga Voyager on NW-1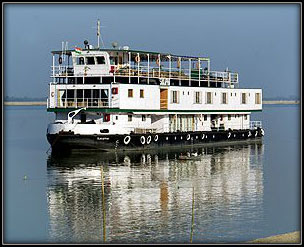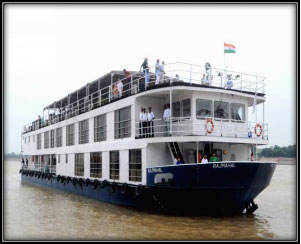 Tourist Vessel MV Sukapha on NW-1                         Tourist Vessel ABN Rajmahal on NW-1
IWAI also contributed in ferrying devotees from IWAI, Gaighat Jetty to Patna Sahib on NW - 1 by using IWAI vessels in celebration of Shukrana Prakash Parv of Shri Guru Govind Singh Ji in Patna (Bihar) during January, 2018.