1.NATIONAL WATERWAY (NW-1)
The Ganga - Bhagirathi - Hooghly river system between Haldia (Sagar) and Allahabad (1620 km) was declared as National Waterway-1 (NW-1) in 1986. Since then IWAI is carrying out various developmental works on the waterway for improvement of its navigability and also development and maintenance of other infrastructure such as navigation aids and terminal facilities as laid down in the IWAI Act, 1985 (82 of 1985). During 2017-18, the important works carried out for development and maintenance of fairway, navigational aids and terminal facilities on NW-1 are as below:  
4.1 Fairway Development:
A fairway with targeted depth and width has been developed / maintained on NW-1 for the purpose of smooth and safe navigation. This was achieved by undertaking River Conservancy measures like bandalling, dredging etc. in Tribeni-Chunar (1226 Km) stretch of NW-1. The stretch between Haldia (Sagar) – Tribeni  (196 km) is tidal and the Least Available Depth (LAD) of more than 3.0 m is maintained naturally. IWAI was not undertaking any River Conservancy works beyond Chunar to Allahabad stretch except day channel marking as the dredgers owned by IWAI being used in lower stretches of NW-1 due to more traffic demand. Although, the day navigational aid being provided in entire stretch of NW-1 from Haldia (Sagar) to Allahabad (1620 km).  
During 2017-18, Bandalling works of 3,900 m in Tribeni - Rajmahal (399 km) stretch and 18,300 m in Rajmahal-Chunar (827 km) stretch were executed for developing and maintaining the navigation channel (fairway), besides some channel stabilization. Further, 1.46 lakh m3 dredging in Tribeni – Rajmahal and 7.24 lakh m3 dredging in Rajmahal - Varanasi / Chunar stretches were carried out by deploying IWAI's dredgers. Some attractive photographs of the bandalling and dredging works etc. can be seen as under: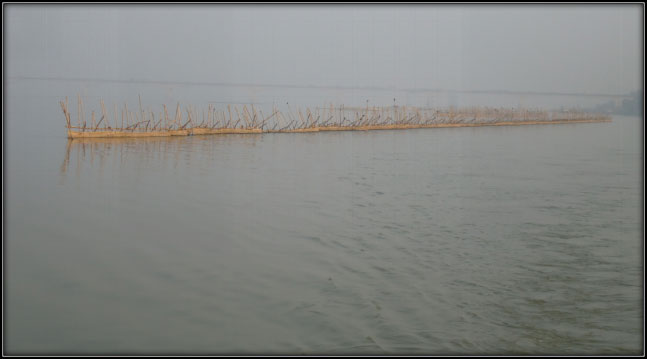 Bandal erected along National Waterway-1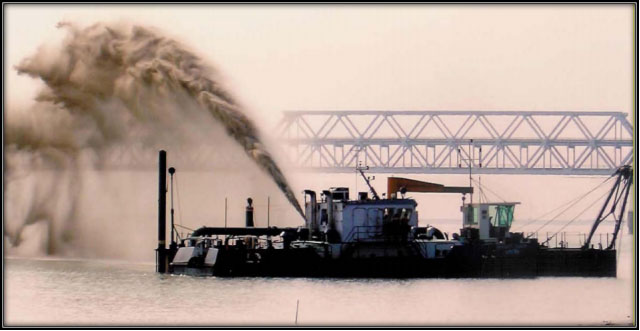 Dredging in progress on National Waterway-1